Global PCB output value will reach US $66.1 billion in 2020, and China will account for half of the global market
---
The PCB (printed circuit board) industry accounts for the largest proportion in the global electronic components segment. With the deepening of research and development and the continuous upgrading of technology, PCB products are gradually developing in the direction of high density, small aperture, large capacity and light weight. Global PCB production rose slightly in 2015 and 2016, but the PCB output value denominated in US dollars declined slightly due to factors such as the large devaluation of the yen and the euro against the US dollar. According to Prismark, the total output value of the global PCB industry reached US $62.4 billion in 2018, up 6.0% YoY. Prismark predicts that the global PCB market will maintain a moderate growth in the next two years and the PCB output value will reach US $66.1 billion in 2020, while Internet of Things, automotive electronics, Industry 4.0, cloud servers and storage devices, etc. will be the new direction driving PCB demand growth.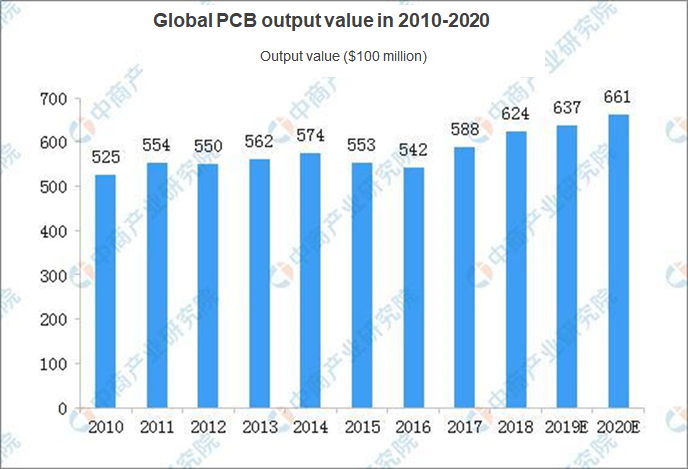 The PCB industry is widely distributed in the world. As the developed countries in Europe and America started early to develop and made full use of advanced technology and equipment, their PCB industry has made great progress. Due to the advantages of Asia, especially China in labor, resources, policies, industrial cluster and other areas, the global electronic manufacturing capacity has been continuously transferred to China, Taiwan, South Korea and other Asian regions in the past 20 years. With the global industrial center moving to Asia, the PCB industry presents a new pattern with Asia, especially mainland China as the manufacturing center. Since 2006, China has surpassed Japan to become the world's largest PCB producer, with PCB production and output value ranking first in the world. The global economy has been in a period of deep adjustment in recent years, when the leading role of Europe, the United States, Japan and other major economies in the world economic growth is obviously weakened, and their PCB market has seen limited or even shrinking growth. However, as China has become more integrated into the global economy, it has taken over half of the global PCB market.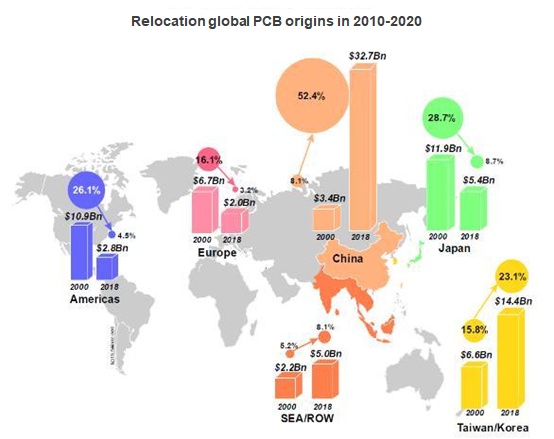 Note: SEA/ROW represents Southeast Asia / rest of the world
China, as the largest PCB producer in the world, accounted for 52.4% of the total output value of PCB industry in the world in 2018, increased from 8.1% in 2000, while America, Europe and Japan accounted for a significantly declined share. The PCB industry in mainland China and other regions in Asia (mainly South Korea, Taiwan of China, and Southeast Asia) has developed rapidly.
Citing from: pcbshijie.com - Global PCB will reach US $66.1 billion in 2020, and China will account for half of the global market
---
Relate News