In 2019, the global PCB is expected to increase by 2.9%. 5G and IoT drive industrial demand
---
The global PCB industry will continue to grow in 2019. With the vigorous development of new applications such as 5G, automotive internet, Internet of Things, artificial intelligence, etc., more market opportunities and challenges will be ushered in. Among all these, High-frequency PCBs are rigid requirements. The key for PCBs to achieve high-frequency is based on high-frequency copper clad laminate materials (such as polytetrafluoroethylene, PTFE), hydrocarbon, etc., and it also is based on PCB manufacturers' own processes. The challenges the PCB industry is facing are that the supply of raw materials is tight, the environmental protection policy is becoming stricter, which makes the threshold of PCB industry is gradually getting higher and the industrial concentration is gradually expanding.
The PCB market is growing steadily in 2019
In 2017, the global PCB output value reached US$58,843 million, and the output value of the communication field was 27.5%. For market participants, there are Taiwanese companies such as Zhending, Xinxing, Huatong, and Jianding; and there are the PCB manufacturers with strong competitiveness in the communication field such as Mektron, Sumitomo, Fujikura, Ibiden, TTM, SEMCO, ISU PETASYS, Sanmina, and the like. At present, global IC carrier manufacturers are mainly concentrated in Japan, South Korea and Taiwan, and most of them have production bases in China.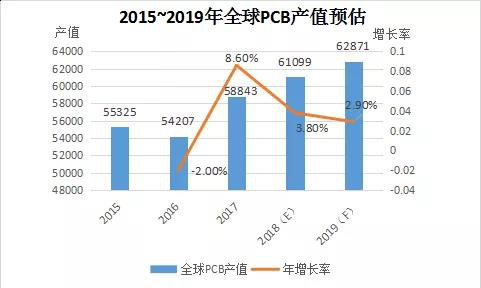 Estimated Global PCB Output Value, 2015-2019
Source:Tuoba Industrial Research Institute
5G, IoT and other applications will drive high-frequency & high-speed PCB requirements
5G construction will drive the growth of the PCB industry. PCB board is seen as the "mother of electronic products", whose downstream applications cover communications, mobile phones, computers, automobiles and other electronic products. 5G technology development has a positive impact on PCB, in that the terminal and base station demand will be increased, and that the PCB area used by the unit terminals and base stations has also grown, which will lead to an increase in the overall industrial demand for PCB.
At present, in the development of PCB technology, besides the mass production of new process fine line technology, many large manufacturers have developed high-end Micro-LED PCB process and high-frequency & high-speed HDI product technology. In the field of carrier board, they have invested in package carrier technology for high-frequency Internet application and package carrier technology for ultra-fine lines, as well as package board technology for thin, in-line high-density ultra-fine line (Coreless), in order to speed up the development of related products and packaged components for input components so as to be in response to the development of 5G, IoT and AI technology.
Overviewing the industry development trend, the global PCB industry is moving toward high density, high precision and high reliability, continuously reducing costs, improving performance, reducing volume, reducing weight, increasing productivity and reducing environmental impact so as to adapt to the development of the downstream electronic terminal equipment industry, among which, HDI (High Density Interconnect), FPC (Flexible Printed Circuit), rigid-flex board and IC carrier board will become the focus of future development.
Source:Tuoba Industrial Research Institute
---
Relate News